A very special year
2021 is coming to an end… time to review the year. Maybe you are using this period for your end year reviews. For HR Ossemann Talent Management, a very special year is coming to an end: the first year in the company's history.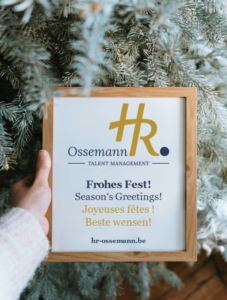 Thank you!
Entrepreneurs often say that their first year was the most difficult. I am very grateful that so many entrepreneurs, HR managers and consultants have placed their trust in me and that many successful collaborations have come about as a result.
More than ever, it has been proven once again how important it is to invest in one's talents in order to bind employees to the company in the long term and thus ensure mutual success.
It has therefore been a very enjoyable and eventful first year for HR Ossemann Talent Management and for me personally.
In this sense, I would like to thank everyone for the enriching exchanges, the exciting projects and wish you all much success and, above all, joy in the continuation.
A question about HR? Get in touch!
If you are already making plans for 2022 in terms of human resources development, let's exchange ideas and see how I can support you on development and implementation.
I wish you all a reflective Christmas season and all the best for 2022. I look forward to seeing or even meeting you next year!
Yours, Rachel Ossemann