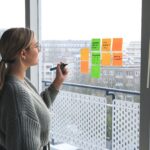 Attracting new talent: How to do it right
More and more businesses tell me that it is a real challenge to recruit new talent. For some companies, however, the first hurdle already arises when it comes to drafting an attractive job description. Thanks to my latest dose of Talent Management, you can find out what is important and how to attract skilled employees for your company.
Change your perspective
People who are looking for personnel usually have high expectations and high demands. One of my clients recently summed it up like this: "We have to make it very clear what we expect as a company. We always want to offer our customers the best service. Therefore, our employees must shine and show the necessary passion. They should also be above average in their motivation".
That's absolutely right and it's true that you as an employer should make (high) demands on applicants. But put yourself in the position of your potential candidates. The first question they ask themselves is: What's in it for me?
My tip: Simply turn the tables and ask yourself the following question: What can we as a company offer the new employee? Because yes: that is the first thing an applicant thinks of when he reads your job advertisement…
Hand in hand
Unfortunately, many companies still too often disregard this point. Out of ignorance or out of fear of having to compromise on their own standards. But don't worry: both go hand in hand. You can make your job ad both 'applicant-friendly' and clearly express your own requirements. Just give it a try next time!
Here are some tips to help you structure your job adverts:
Who are we?
What do we do?
What do we stand for (values/vision)?
Who are we looking for (= precise title of the job)?
Why are we looking for reinforcement (now)?
Our offer: What can the applicant expect?
Our requirements: What do we expect as a company?
Information on the application process
Do you have a question related to HR and Talent Management? Get in touch with me! I will be happy to support you.